Graterford, Skippack, Collegeville, Eagleville, Fairview Village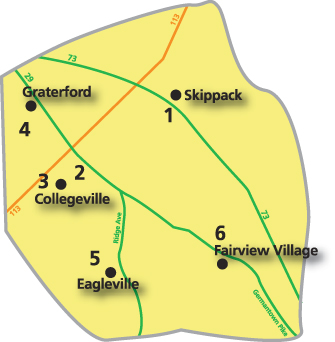 Skippack has much to offer the area, with fine shops and dining in the village. From antique stores to specialty shops, the quaint district along Route 73 has something for everyone. The excitement doesn't just stop with the village. Just one block north of Route 73, on Store Road, Playcrafters of Skippack offers theater selections and shows for all ages. Located just 10 miles from Route 422, at the corners of routes 113 and 73, the township is easily accessible.

Skippack also boasts a deep history, which can be further discovered by stopping by the Skippack Valley Historical Society, located on the corner of Skippack Pike and Evansburg/Old Forty Foot Road, just outside the village. Evansburg State Park is also just a short distance from the main drag of town. Whether it be to hike through the woods, fish on Skippack Creek, or hunt and trap on the 1,000 acres of open hunting lands, the park has much to offer everyone all year round.

The township of Skippack is also close to access points to the Perkiomen Trail. The trail offers paved strolls through scenic portions of the creek, woods and nearby towns. Biking, horseback riding, running, walking and skating are all permitted on the trail.