Perkasie, Blooming Glen, Sellersville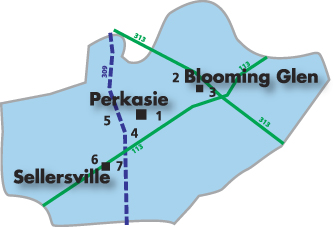 Perkasie Borough, a historic town of nearly 8,800 residents, will observe its 125th anniversary as an incorporated borough in 2004.

Located in the heart of the excellent Pennridge School District, Perkasie is known for its Victorian homes and architecture and sprawling 150-acre park system that includes a municipal pool, paved bike path and the historic Perkasie carousel. It has many other historic treasures including the 1832 covered bridge, Stout Cemetery, twin bridges in Lenape Park and a museum in a former trolley station.

Perkasie offers many active churches and organizations, a responsible local government, 150 small-town businesses and two shopping centers. It has an ideal off-highway location with few traffic problems, and is a safe community that is a great place to raise a family.